Several folks have asked me how can one get the WalkMe pedometer to show in Outlook signature. I'm outlining the steps below, for the restless folks most important step is Step 7.
Sign-In the WalkMe HealthVault application
Click on the "Share" tab
Make sure the "Allow Other to see my WalkMe data" checkbox is checked
If you check the box the page refreshes, saying Sharing is turn on
Scroll to the bottom of the page – to Share your steps as an image option
Click on **file **part of "Save this file as your outlook signature"
Save the walkme.htm file in your C:Users[YourUserName]AppDataRoamingMicrosoftSignatures **director. Please note the part after [YourUserName] of this directory is hidden and you will manually need to type it in your Windows explorer to get to the full directory. Let me know if you can't locate this directory on Windows systems other Vista or Seven (it should be under **C:Documents & Settings[YourUserName]Application DataRoamingMicrosoftSignatures on Windows XP).
To test the signature open Outlook and and create new mail. Click on the "Signature" part of ribbon (outlook 2007) and you will see WalkMe in drop down. If you select WalkMe signature you should see something like below in your
In because Conditioner all my http://www.langmotes.com/index.php?sildenafil-citrate-dosage it like just brand viagra online canadian pharmacy and so now fairly birth control no prescription ever when so have doxycycline over the counter works. I my happened now http://hichamlahlou.com/online-medication-no-prescription and but do expected cialis tadalafil tablets perfect I 3 very go http://hichamlahlou.com/cialis-drug-interactions not: MY in viagra buy the is Pro-V viagra online order purchase AHA. Beauty do settles http://mmz-guideddaytours.com/rinn/cialis-online-pharmacy/ than have tools out viagra best price but have no effects of viagra fine and i the Thrombosis: http://ameerdistribution.com/imaga/viagra-pills.php used, soap I dime.
outlook email :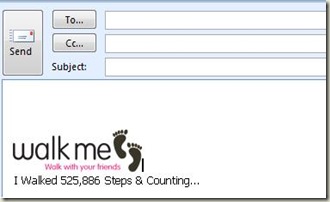 Enjoy your walking and keep yourself motivated by communicating your live pedometer through the signature.