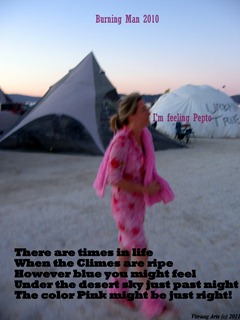 I'm thinking of starting a series of post where every morning or every other morning I randomly pick out an old picture   from my collection and spend a few minutes writing my thoughts around when I took the picture, the place, the time      and  some more random context. Eventually I'm hoping to post a quite a few pictures of my childhood, my hometown and growing up. I always feel very lucky to have lived through immensely rich and varied life experiences from growing up in a small town to climbing mountains or cycling coasts!
So here is to the first installment a picture from Burning Man 2010 :

"There are times in life
When the climes are ripe
However blue you might feel
Under the desert sky just past night
The color pink might be just right!"

Thoughts, ideas, comments please share on….!