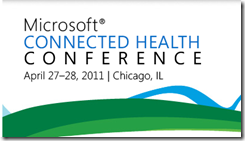 I'll be presenting and speaking at the Microsoft Connected Health conference on Thursday, April 28th with my colleague - Eric Gunnerson, our talk is titled Developing HealthVault Enabled Solutions in 2011 and Beyond. We will be demonstrating and explaining plethora of features released (or to be soon released) in the Microsoft HealthVault product line over the last year!
Its always exciting to mingle with consumers of your products. Sometimes its reflective, sometimes its fulfilling and most of the time its insightful!
I'm looking forward to meet our partners and customers over the next few days. So if you are at the conference feel free to reach out!